More than 17,000 breaths are taken every day by most people. Do you ever wonder if what you are breathing is good for you? RGF® exists to make sure each breath you take is as fresh and healthy for you as possible. Because when you breathe good quality air, you feel your best. And when you feel your best, you can be your best. Fresh air, water and food are life-changing. That's why RGF® is committed to protecting them without chemicals, today and for generations to come.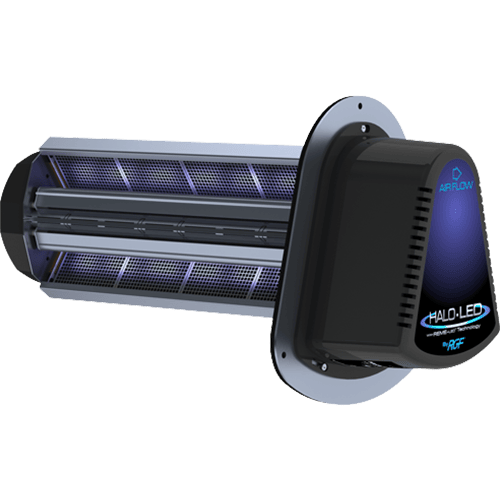 HALO-LED™ Whole Home In-Duct Air Purifier
Help protect your air and the environment
As the leader in innovative solutions to indoor air quality problems, it's no surprise that RGF® has taken air purification to the next level. The HALO-LED™ Whole Home In-Duct Air Purifier uses our new revolutionary REME-LED® technology to help protect the air for you and your family. REME-LED® provides a longer product life with improved energy efficiency, zero ozone creation and no mercury (sometimes found in traditional UV lamps).
You get proactive air treatment in your home combining low levels of airborne hydrogen peroxide with ionization to reduce viruses, bacteria, mold spores, dust, dander and pollen. The difference is we now use a revolutionary, energy efficient UV-C LED that turns on and off with your blower and a new washable hybrid ceramic catalyst.
How It Works:
Just like the REME-HALO®, the HALO-LED™ disperses natural concentrations of gaseous hydrogen peroxide throughout your home, reducing viruses, bacteria, mold spores and odors in minutes. Low levels of airborne hydrogen peroxide are quietly distributed throughout the air-conditioned space so you get the fresh air where you need it.
For environmentally conscious people, this solution is truly revolutionary. It saves energy by turning on and off as the air flows through the unit. This also makes the unit last 2.5 times longer than the REME-HALO® In addition, the HALO-LED™ is verified zero ozone.
Why It Matters:
The indoor air quality in your home or office can be five times more polluted than the outdoor air, primarily because indoor air is not properly sanitized. There are added contaminants that are simply not filtered out of the air or removed from surfaces, but instead accumulate again over time. This happens because bacteria, viruses, mold spores, and other toxins are too small to be stopped by traditional air filters, and some can even pass through a HEPA filter.
So, since you spend up to 90% of your time indoors, it's important to consider the impact these pollutants can have on your long-term health. When you install a HALO-LED™, you will notice the difference in the quality and freshness of the air you breathe and wonder why you did not take this simple measure sooner.
Features and Benefits
With HALO-LED™ you can help protect your family and the environment at the same time!
The new, revolutionary REME-LED® technology gives you longer product life, lower power consumption and zero ozone emissions from a device that contains no mercury. Unlike traditional UV lamps, the LED array does not have to run constantly, instead it turns on and off with your blower. It also contains the industry's first washable catalyst. With HALO-LED™ we have taken our best and made it even better!
Feel your best with the fresh air created by HALO-LED™. Unlike passive technologies that wait for airborne pollutants to get to them, HALO-LED™ actively targets the pollutants at the source inside your home.
Silent, continuous operation with technology destroying pollutants at the source.
Automatic, self-cleaning ionizers designed to reduce dust, dander and pollen, which is especially beneficial for allergy and asthma sufferers.
HALO-LED™ gaseous hydrogen peroxide is effective against gasses and volatile organic compounds, keeping your home odor-free.
HALO-LED™ features the industry's first washable catalyst lasting the life of your device.
Seven year limited warranty.

Ultravation technologies address all types of indoor air contamination. Indoor air is frequently 2-5 times more polluted than outdoor air. To address this problem in its entirety, we design and manufacture indoor air quality (IAQ) improvement products to address the complete range of indoor air contamination. Our mission is to help people create the healthiest, most pleasant and productive indoor environments possible.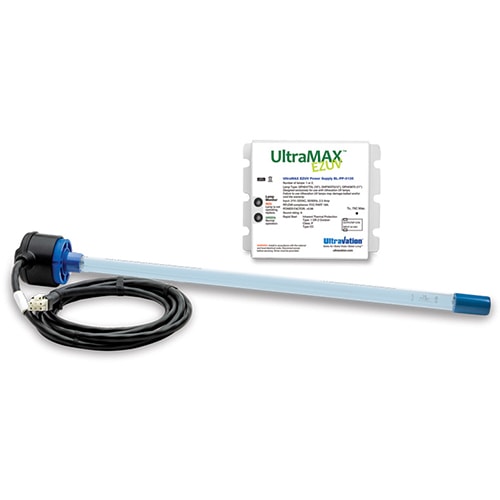 UltraMAX EZUV™ Remote Lamp UV
Core Features, Performance, and Environmental Benefits
Proven disinfection technology that inactivates bacteria and viruses in the HVAC airstream and bio-growth on HVAC internal surfaces.
Saves energy because UV prevents insulating bio-growth promoted by condensate from forming on HVAC cooling coil. High HVAC coil efficiency is maintained 24/7 which mean fewer running hours to keep you home comfortable.
Provides allergy relief by destroying allergens and preventing allergen-generating bio-growth inside the HVAC system.
Prevents HVAC "dirty-sock smell caused by HVAC bio-growth
Reduces HVAC wear and tear by reducing running hours
Ultravation® UltraMAX EZUV™ Remote Lamp UV fits any HVAC system
Easy-to-fit! Comes with a super-compact, electronic power supply that fits any HVAC configuration.
UV Lamp Monitoring: Reminds of lamp replacement time.
Adjustable UV shield option
One or two lamps: Add a second UV lamp can be added as needed—EZ-Light 6P.
Multi-voltage operation: Optional 110-240VAC or 24VAC transformer available.
Flex Bracket mount for compatibility with any HVAC system.
Ozone Free

Ecobee makes home comfortable.
Savings when you're away, comfort when you're there. Smart thermostat is the heart of your home, pairing with ecobee sensors and cameras to extend comfort and peace of mind throughout your space. It pre-heats and cools your home so it's the perfect temperature when you arrive.
Need HVAC or Plumbing Service?